For my very first Mothers Day, my beautiful daughter, Penelope gifted me the best cooking book ever! It is all about making cupcakes and is called "Hello Cupcake".  After receiving this amazing book I feel compelled to make awesome cupcakes for any and all special occasions (and sometimes just because) ;)  The book shows how to make so many great (and EASY!) styles of cupcakes such as wreaths, butterflies, dogs, ocean shark scenes, owls and so much more!
Ye Grand Old Flag…
Independence day was just the excuse to try out a new cupcake design from the book.  Ever since I fanned through the pages I had been itching to make the "thanksgiving meal" set of cupcakes, and a 4th of July BBQ celebration seemed like the right place to show them off!  Last night I used the few "free adult hours" (you know, the ones where the baby is sleeping and I haven't yet gone to bed myself…ahhh bliss! lol) to bake up a dozen of these adorable delicacies.  I decided to skip the chocolate pudding cupcake that they had to go along with the peas and carrots, buttered mashed potatoes and gravy, and bone-in chicken leg because I thought it looked just like any old chocolate frosted cupcake.  After working in the kitchen for just a bit I had a beautiful batch of cupcakes baked off and decorated.
Safe travels…cupcake style!
I loaded them up in my handy dandy Cupcake Carrier that I received as a gift from my SIL for my recent birthday and was on my way to the BBQ.  I cannot rave enough about this carrier! It boasts storage for 24 cupcakes total, but is also collapsible to save space and store only 12 when needed.  The cupcakes were a big hit and they made it to the BBQ completely unscathed!  I highly recommend both the book and the cupcake carrier. In my opinion they should be sold as a set!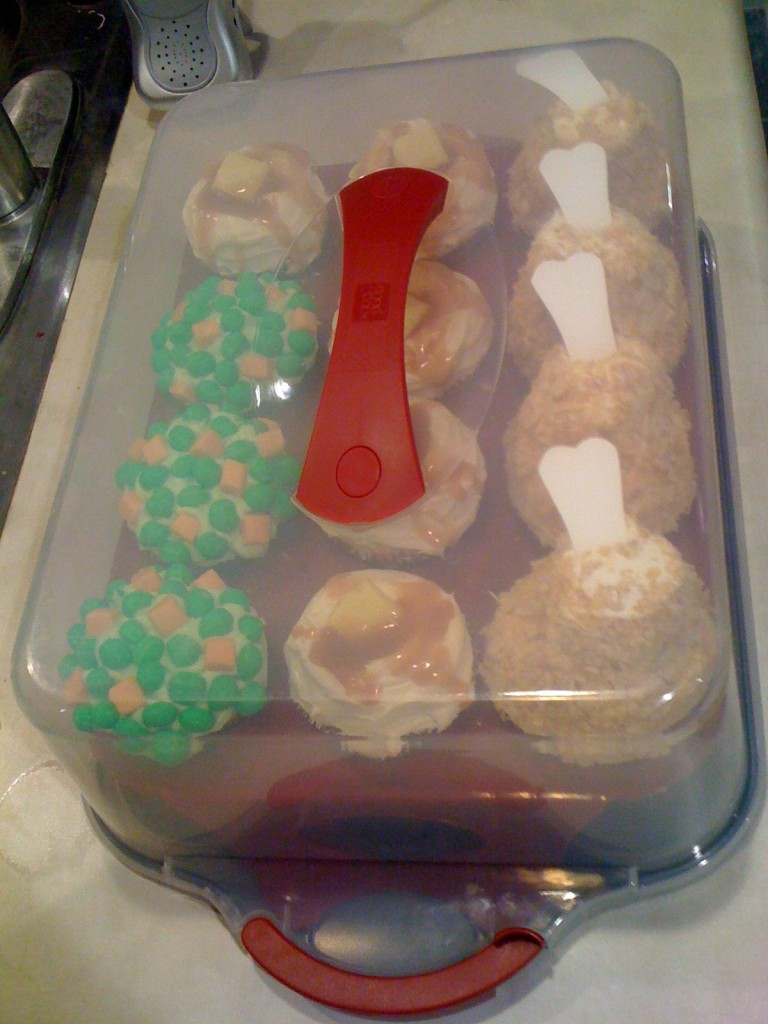 I hope everyone had a safe and happy Fourth of July!
Read below to see what was used to make the cupcakes:
Peas and carrots:Â  these cupcakes were made using baked off full size cupcakes, iced in green tinted frosting and topped with orange starburst and lime Runts candies.

Buttered Mashed potatoes and gravy:Â  These were made using baked off full sized cupcakes generously topped with vanilla frosting, caramel sauce "gravy" and yellow starburst "butter"

Bone-in Chicken leg: These were made using baked off full sized cupcakes as well as one baked off mini cupcakes for height. They are generously frosted in vanilla frosting and then rolled  in crushed up corn flakes.  The book says to make the bone out of piping melted white chocolate onto wax paper, letting it dry and peeling it off, however I had no chocolate and so I just cut out scrapbook paper to look like a bone and slipped it in.