The sun is out, the birds are chirping and I can feel that Spring is near. Sure, it's still much too cold to really play outside, but going to the store you can see that it is rather apparent….Easter will soon be here!
Along with the eggs, chocolate bunnies and ham dinners, parents everywhere are swarming to photographers for those springtime photo opps. I was lucky enough to receive a super fun custom order on my etsy shop for a little boys Easter picture outfit.  I adore making custom items. It's so fun to have a client explain what they want and then make it come to life for them!  When I received the order for today's work I was pleasantly surprised to see that she was going to give me creative freedom to pick out the right color choices for her. I gave her several options and she chose my favorite: bubble gum pink, butter yellow and a mod sky blue print.
I got to work and (thanks to Penelope's long nap today) am almost finished up!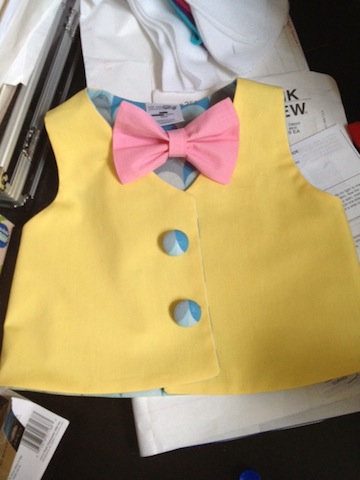 If anyone out there is looking for a cute spring themed outfit for their little one, please visit my shop! I have pages of ready to ship, adorable children's clothing sizes 12 month-6years. I'm also able to custom make an item that you see on my page in colors of your choosing.  Check it out and have a wonderful March ;)