I have been sewing children's clothing for three years now. Although I absolutely love it, I am always a bit jealous of the adorable dresses that I make for Penelope. It was always a goal of mine to sew adult sized clothing and amp up my own wardrobe with super cute handmade dresses but I was always so intimidated to start. I recently decided to just go forth and take the plunge! I made myself a Christmas dress and the experience was a hot mess. The sizing was completely off and I had to take it in which made some weird seam issues….I could go on and on about how awful it was, but why don't you just go ahead and take a look….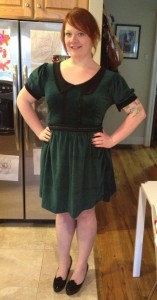 So, it was at least wearable, but I knew I could pull out something better. That's where today's dress comes in to play. I was determined to make something retro and cute that would fit me nicely. It took several re-draftings of the pattern to give a snug, but comfortable fit and I had to practice box pleating on a scrap piece of fabric…not to mantion the small math lesson given to me by a friend to make sure I allotted enough fabric pleats to fit the bodice, but I think it came out rather successful!

I chose a fun flag pattern in navy/aqua/turquoise and tomato and paired it with a tomato red collar (yes,of course it has a collar, I can't help myself), belt and trim. It's super loud and bright- both of which I adore! It makes me feel as if I'm ready to prance around at a carnival with a funnel cake and a large lemonade in my hand while viewing the adorable baby piglets in their stalls.
I have now caught the adult sized dress making bug! I'm already planning my next try at it….and I just finished this one an hour ago!