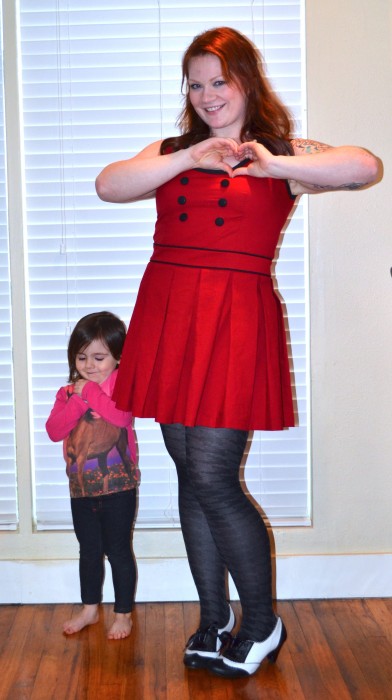 In my attempt to design for adults as well as children, I have finished up another dress…and just in time for Valentine's Day!  I don't really have anywhere to wear it. We are simply staying home and making fondue with Penelope that night, but I am planning on having lunch with my sweet husband and hey, I may as well look good while doing it.  Not to mention this whole dress only cost me $10 to make so why not?!
I'm extra excited about this particular dress because I think it really mimics the style and feel of the little girl dresses I have designed in the past. The double rows of buttons and box pleated skirt have such a mod school girl charm that I just couldn't resist.   I also never wear red so this color is out of my comfort zone, which I think is actually quite fun! I was told as a young redheaded girl that I should never wear red. Apparently it would clash too much with my hair. I can't even remember which silly old woman told me this, but for some reason I took it to heart growing up and never bought anything red. Well poo on you old lady! I think my red hair looks marvelous with this deep red fabric so I'm gonna rock it!
I threw together a quick photoshoot of my dress along with my hounds tooth tights from Kohls and my amazing Poetic License shoes from Modcloth. I can't say enough good things about these shoes! They are super comfy, extra charming and match pretty much anything.  I promise that I will find a different photo set up instead of my boring blinds and window shot. We just have a small house and it's pretty much the only area that doesn't have a table, desk, chair or bed shoved into it. Come summer time I'll knock your socks off with some nice outdoor shots with *gasp* pretty scenery! For now, this will have to do…A special thanks to my little helper who loves to jump into just about every shot with me. Can I complain? That cute little face would make any dress look better!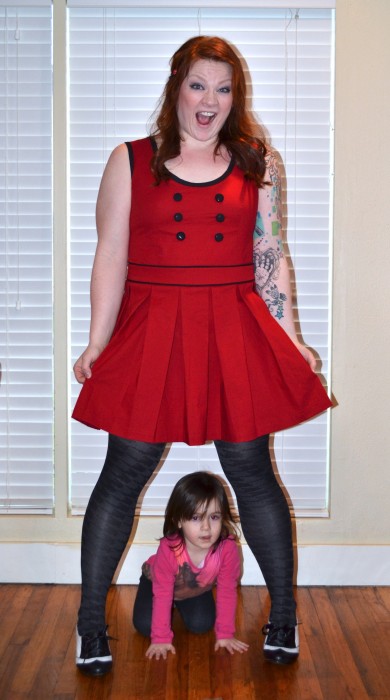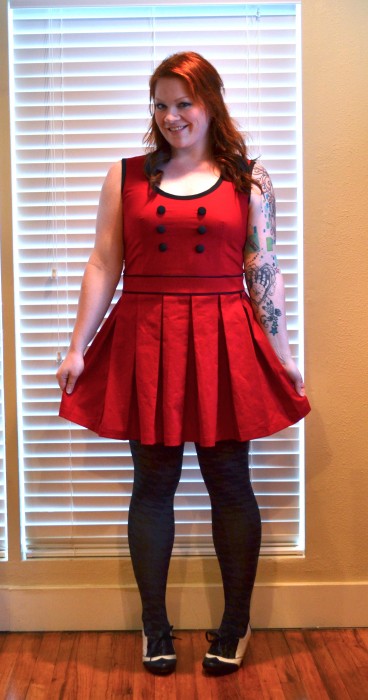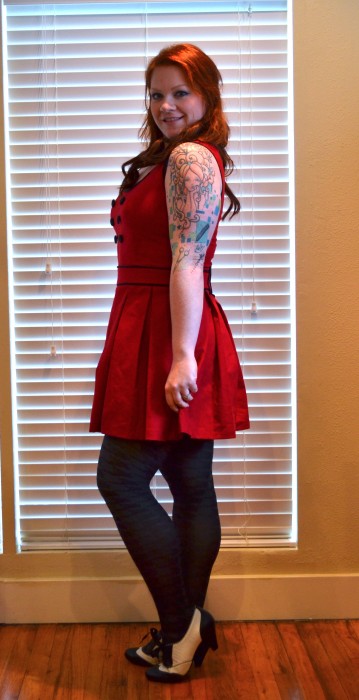 Another reason I picked this beautiful red and black combo was for my husband. These are his two favorite colors and I, of course, wanted to create  a Valentine's Day dress that he would appreciate.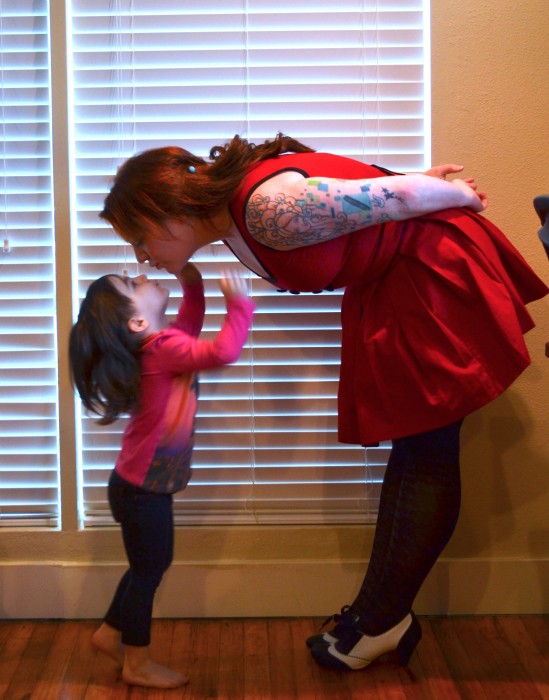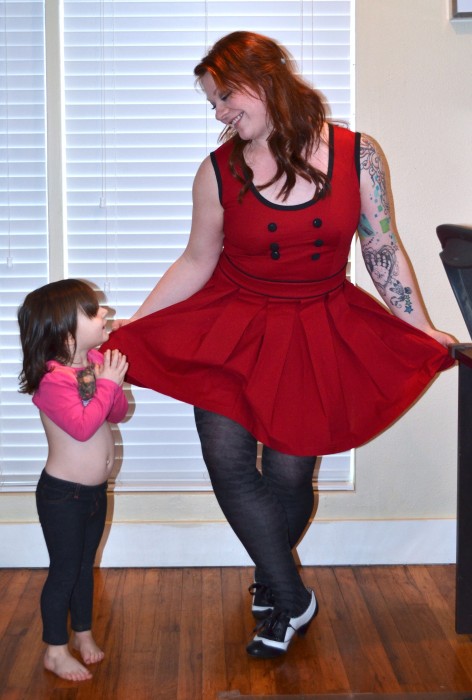 Look at that little love bug posing with me! She makes these tedious pictures a lot more fun.  I think I may be creating a little fashion diva! She definitely has an opinion when it comes to fashion. See that horse shirt she is wearing? She pretty much wants to wear it every single day! lol  She also sits close by me when I'm doing my makeup and sneaks the brushes to rub all over her face. This morning I caved in and put a little pink eye shadow on her lids. She was ridiculously excited. I'm creating such a girly-girl!
Now for some close up detail shots of this fabulous dress…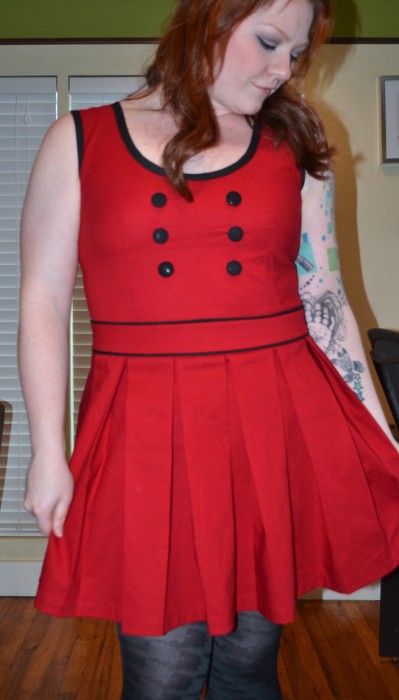 In all, I'd have to say that I am completely smitten with this dress! Now on to drafting the perfect princess seam bodice. Perhaps a flouncy circle skirt to go with….the possibilities are just endless! <3