I must say, this birthday post is a little late. Penelope's birthday was last March and it is now early October, however it was such a beautiful party that I can't pass up the opportunity to share. Without further explanation, let me introduce you to my daughter's 4th birthday theme: Carousel Horses.
Penelope is obsessed with horses. Last year she had a My Little Pony party, while this year it was Carousel horses. I imagine I will be having to scramble to come up with different and unique horse themes each year. In fact, I have already started planning the next horse bash for March 2015: Cowgirls and western horses. When I have a great theme to go off of, it makes the party planning fun and much easier. Â I also really like when the invitation sets the perfect mood for the party. It allows the little guests to get excited and dress appropriately for what we have in store for them. This particular year I decided to draw up a special carousel horse to put on the front of the invitations. They were completed by an inner lining that matched the fabric of Penelope's party dress (hint: I simply photo copied her dress fabric onto paper, cut and glued it into the card) and of course lots of shimmery paper! Please excuse the tacky napkin covering my personal information! ;) And the bit of wrinkling on the inner lining…remember my almost 3 year old girl helped me!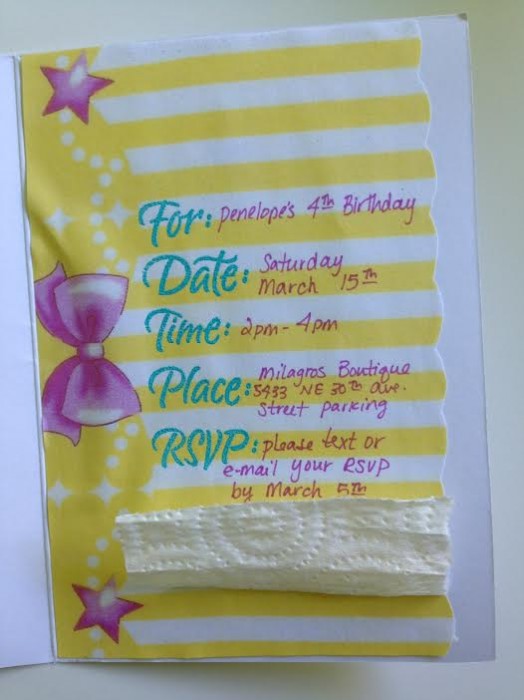 I often start by figuring out the cake, how I would like it to look and then from there I am able to make choices on the colors and the other decorations and food. Â I found a great Carousel cake set from Wilton at Joann's Craft store so I bought that, I made a huge batch of marshmallow fondant and a lovely blueberry cake and got set to decorating.
I had the party after lunch but thought it would be nice still to offer snacks! What better snacks to offer at a carousel party than carnival-esque treats?!?! Cheese dip and soft pretzels, cotton candy, popcorn…all in fun carnival themed packaging that matched the party theme colors.
Decorations are always a fun part of getting ready for the party too. Penelope really enjoys helping me make her decorations so we usually sit down with lots of paper and glue and get to work! These pinwheels adorned with the invitation horse I drew and some magical stars did the trick. I also made lots of paper bows and stars on garland to hang from different areas around the room.
We played fun games like red light, green light, pin the carousel horse on the pole and "musical carousel" our version of musical chairs. I find that these types of party games really work well for this age group. It keeps them busy and happy until it's cake time without being too planned or overwhelmed. Here's some little ladies playing red light, green light…
I'm also a sucker for a really good treat for the little ones to take home. It's a great way for parents to "bribe" their kid out the door when it's time to leave (a difficult task as we all know) plus it's a lovely way of saying thank you to your guests for the gifts they brought. This year I went light on the candy and instead filled the pink bags adorned by paper bows with stickers, bracelets and only one edible- cotton candy. Each child also got to take home a special outfit that they wore during the party. Girls got tutus and feathered headbands and boys got feathered gentlemen hats and neck ties.
Last, but certainly not least, I always make Penelope a special outfit that matches the theme of her birthday. This year I found amazing Japanese import carousel fabric which inspired the invitation design. I loaded that dress up with all kinds of ruffles, gold accents and even went so far as to add hand applied swarovski crystals here and there. It was a dress fit for a carousel princess. I also made (because I am insane) Â a homemade petty skirt to go under her dress for additional poof. This was quite the chore to make and i don't believe I will ever do it again, however I am happy to check it off the bucket list. ;) (Luckily she wore it again for Easter! Phew!) Penelope accessorized with her favorite string of pearls…always with the pearls! As you will also see in the very first picture on this post, her American girl doll had a matching dress. I am a chronic over achiever…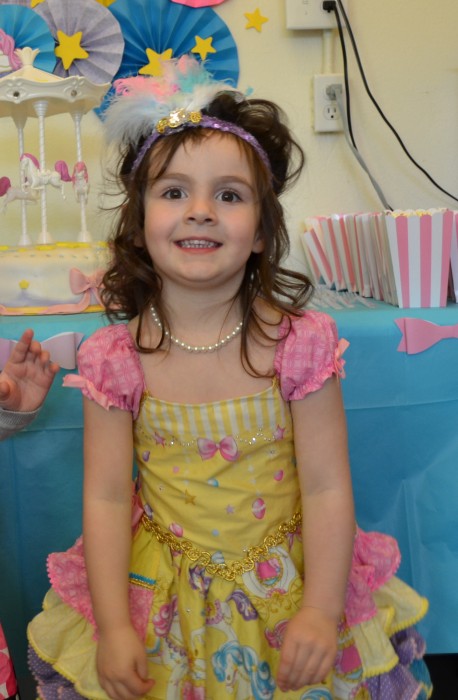 It was a beautiful party full of fun and friends. I am so happy that I could make my little girl's birthday dreams come true! Here are a few more shots of the day including the new two wheel (no training wheels!!!) bike she received from her dad and I.