We recently moved into a new home and it has been taking up all of my free time lately as I decorate it and we make it our own. One of the most exciting features is the amount of space we now have which is awesome because it means I get to have my own sewing studio space! Finally! No more sewing in a cramped up front entry way! Hurrah! However, because every surface of this new home needs a few coats of paint and a lot of elbow grease, I haven't been able to sew much lately. That's why when Rachel over at Golden Rippy Patterns called for pattern reviewers of her new pattern, the Delilah Top for Ladies, I decided to join in. It had a deadline of when I needed to post my review and I thought that would be the perfect motivation I needed to make myself find the time to sew up something. Â Not only that, but this post is part of a larger blog tour and a contest! Â Before I get in to all that though, here is my experience in sewing up this adorable shirt!
As soon as I get a new PDF pattern I always print it out and cut out my pattern pieces. I do this so they are available and ready for whenever I find the time to cut out my fabric and sew. This particular pattern calls for knit material and comes with some options, which I love! You can leave it plain or can decorate it with a bow on the shoulder or flowers. It also has two sleeve length options and is available to make in sizes XXS-XL women's.
Next I headed with my mini fabric partner-in-crime, Penelope, to Joann Fabrics to pick out a nice neutral knit to use on this project. I decided upon an ultra soft and lightweight gray with a corresponding grey lace textured knit for a little pop of something special.
After that I cut out all my pieces using a rotary cutter (a must for knits) and set out following Rachel's incredibly clear instructions.
I found that her instructions were minimal, yet very clear and easy to follow. I design patterns and sew a ridiculous amount myself, so I am quite experienced, however I believe these instructions would be great for a beginner as well.I had to take a little break in the midst of my work to eat the "key lime and cherry flavored" play dough pancakes that Penelope made for me. ;) (excuse my sewing room. It used to be a mans workshop and is in rather poor condition. It won't be fixed up until the upper floor of the house is squared away).
It's amazing how quickly this shirt came together! It's especially perfect for you out there who hate setting in sleeves but want a shirt with sleeves on it. This is because the sleeves are part of the main bodice cut. Great move Golden Rippy Patterns! Â I quickly got to the point where I was ready to add all the lace knit banding onto the main shirt body. Â This went very smoothly and the result was lovely.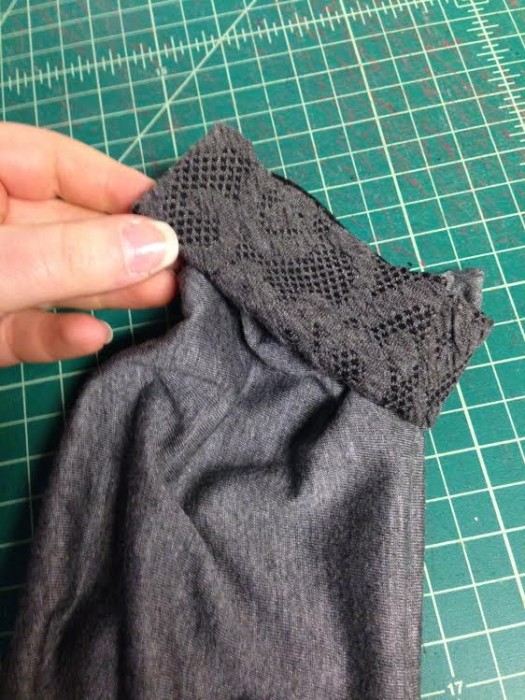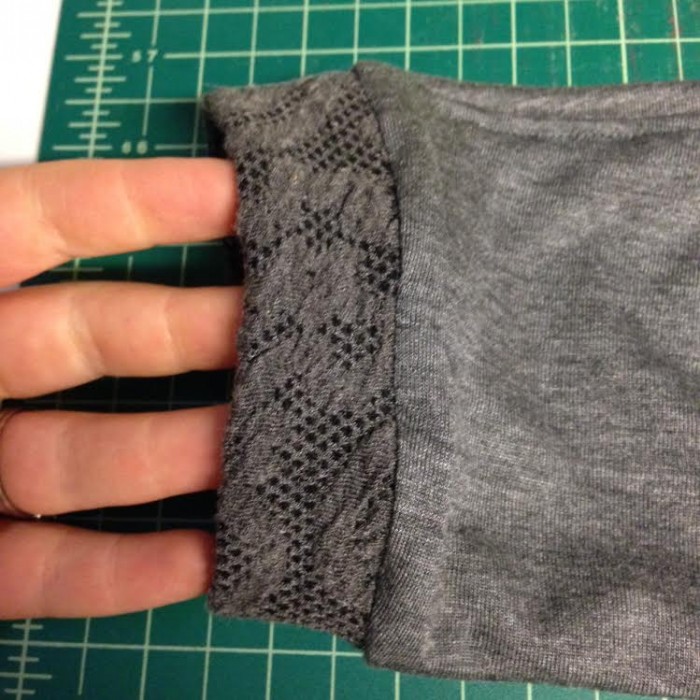 I decided to go ahead and add the bow to one shoulder. The pattern comes with options of adding flowers or a bow and I'm a bow girl all the way, so of course it won my heart. I decided to leave the tail of the bow off and stick with just the double layered bow as the tail seemed like it would grow to be a hindrance over time while wearing my creation.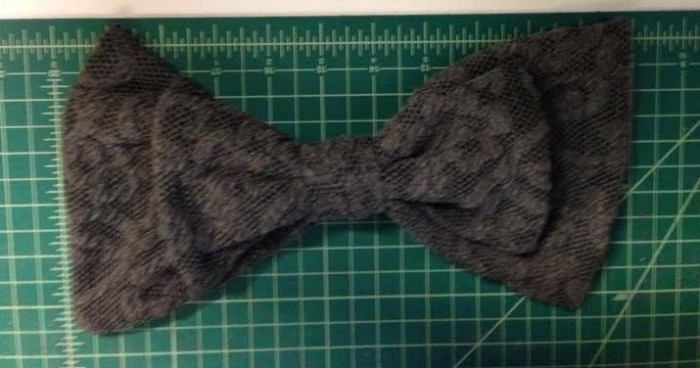 I absolutely adore how the top turned out. I made a size medium and it fits great! The only issue I would note is that I have rather thick arms and I probably should have cut out my pattern pieces using the medium size but then cutting into the large size where the arms were concerned. The top still fits great, but the arms aren't loose as I suppose they are meant to be. Keep this in mind if your a strong armed lady like myself! Here is my trusty body double modeling this amazing shirt. She looks really pretty doesn't she?!?! ;)
Even better, this top also comes in little lady sizes in a pattern called the Dahlia so your little girl can match you! Â You can learn more about Golden Rippy Patterns at their Facebook page, so check them out! And hey, while you are checking things out, feel free to take a look at my own pattern page, Pineapple Penelope Patterns. I am just starting out and would love all the new support! Follow us on our Facebook page too!
Now about that blog tour and contest I mentioned earlier…Here is a map of the tour if you'd like to follow along. Â At each stop you are encouraged to enter the contest using the provided raffle copter links on each reviews blog post. (you will see this at the bottom of this post). This will enter you in a chance to be one of two lucky winners! Winners will get to pick out two Golden Rippy patterns of their choice! This means if you are the lucky winner you could choose this top pattern AND get the matching little girl one if you choose! How great is that?! Â To enter you must be 18 years of age or older. You gain entries by entering the raffle copter prompts on each blog post. The giveaway ends at midnight PST on 8/6/14 and winners will be announced the next day. Good luck and happy sewing!
Golden Rippy Patterns blog tour map
Monday- July 28
A Vision To Remember www.avisiontoremember.com
Fabulous Home Sewn http://www.fabuloushomesewn.blogspot.ca
Amanda Rose http://madebyamandarose.blogspot.com/
Tuesday- July 29
FriendsStitchedTogether http://friendsstitchedtogether.com/
Cozy Cape Cottage http://cozycapecottage.blogspot.com/
Gracious Threads www.graciousthreads.ca
Wednesday- July 30
GYCT Designs http://www.gyctdesigns.com/
The Sewing Geek http://www.thesewinggeek.com/
Sprouting JubeJube http://sproutingjj.blogspot.ca/
Thursday- July 31
My Taylor Made www.mytaylormade.blogspot.com
Mimi's Mom http://www.mimismom.com
Rebel & Malice rebelandmalice.blogspot.com
Friday- Aug 1
Stitchwerx Designs http://stitchwerx.net
Pienkel http://www.pienkel.com
E-beth Designs http://ebethdesigns.com/
Saturday- Aug 2
Growing Family 1 http://growingfamily1.blogspot.com/
Marmalade Forest www.marmaladeforest.com
Ali Cat & Co alicatco.blogspot.com
Sunday- Aug 3
Made by Sara http://made-by-sara.blogspot.com/
From a Box http://www.from-a-box.com/
Crooked Whimsy http://crookedwhimsy.blogspot.com/
Monday- Aug 4
Daisy Chain Creations http://daisy-chaincreations.blogspot.com/
Knot Sew Normal http://knotsewnormal.wordpress.com
Lulu & Celeste http://luluandceleste.blogspot.ca
Tuesday- Aug 5
Mae & K http://maeandk.com/
The Crazy Tailor http://thecrazytailor.com
Blogs Like A Mother http://blogslikeamother.blogspot.com
Wednesday- Aug 6
Bebe Lambs www.bebelambs.com
Create3.5 http://createthreepointfive.blogspot.com
Lady and the Gents www.theladyandthegents.blogspot.com